EDX SignalPro developed by EDX is a comprehensive and fully featured RF planning software suite offering all the study types needed to design wireless networks, including; area studies, link/point-to-point studies, point-to-multipoint and route studies.
With support for wireless systems from 30 MHz to 100 GHz, plus advanced network design capabilities, SignalPro is the engineers tool of choice for planning, deploying and optimizing, Broadband, LTE, Mobile/Cellular, WiMAX, Mesh, in-building DAS, LMR and more. EDX is used by private network operators throughout Australia and New Zealand including Police, Emergency Services, Utilities, and Broadcasters.
Visualization
EDX SignalPro integrates with Bing™ maps, providing a visualization layer for network design and presentation purposes. Results may also be exported to a KML/KMZ format for viewing studies in Google Earth®. In addition, these studies may be exported to MapInfo® and ArcView® formats as well as image files such as PDF, JPG, BMP and others. Multiple map views within SignalPro show project studies and GIS map data simultaneously.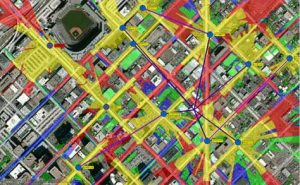 Full point-to-point analysis
The comprehensive path analysis available in SignalPro contains rain/fade outages, percent availability and dispersive fade margin, along with other considerations. Adjustable parameters allow you to add trees, buildings or other environmental factors to enhance the accuracy of the link study. In addition, the interactive display allows you to view real-time link analysis.
Point-to-multipoint study
Analyse RF performance from servers to each point in a point-to-multipoint system.
Route Study
The Route Study capability in SignalPro allows you to define a series of specific points along a 2D or 3D route and run area studies to each point.
In-Building Studies
SignalPro offers propagation models that provide accurate predictions for indoor, outdoor and indoor/outdoor system design. These models provide analysis of the effect of outdoor transmitters on indoor radio systems and are applicable to the full suite of SignalPro studies (area, route and multipoint).
Area/Coverage Studies
For projects within SignalPro, you can set up as many area studies as you like-each based on unique parameters and considering the same or different transmitter groups. For complete coverage calculation, SignalPro offers an extensive list of studies.
CUSTOMER STORY
ENERGY AUSTRALIA
Energy Australia had a firm commitment to deliver smart metering across its customer base and this would require a radio access network.
TeleResources was engaged to deliver a high-level network plan utilising WiMAX technology which forms part of the business case and budget approval process. TeleResources also then produced the detailed plan including physical site inspections and detailed engineering studies using the EDX planning tool.
SERVICES USED