How You Can Achieve the Best Network Performance Management?
Companies spend a lot of time, money and effort into designing and creating the perfect network. They spend the time researching the best providers for wired and wireless connections to all their locations. They spend the money needed to purchase the most bandwidth to ensure the highest speed of connectivity. They make the effort to investigate the best possible solutions to ensure everyone is connected on the go, no matter where they are, with the highest level of security.
Companies do all of this because the network is the backbone of their operations. Without it, not many larger companies would be able to operate as they do today. Without a high-performing network, it's next to impossible for a company to grow and innovate at the rate that is necessary to compete in today's business landscape. 
Not only do consumers expect to always be connected, but a company's employees do, too. The problem, of course, is that once that perfect network has been designed, created and deployed, there are many fail points that occur at various points in the infrastructure. Such fail points could include:
Latency or total disruption in coverage

Packet loss

Throughput issues

Retransmission
The challenge for these companies is that although they may have the skills and knowledge on staff to research and find the best network products, they don't have the ability to diagnose and rectify problems when they occur over the wireless network. In order to do this properly, the wireless network owner and the operator would have to know where and what the issues are, and then put appropriate strategic actions in place to maintain and improve the quality of service for its customers.
How Network Performance Management Can Help
Network performance management software can help your company no matter how complex your company's network may be. It can help you to better manage your network's reliability and functionality. Even if your company has the staff that has the skill set to do this, doing so manually will require a huge chunk of time and money.
The network performance management software, in contrast, is an investment that can help optimize the management of your network in an automatic way. Network performance management software will help optimize your network infrastructure, improve your network's efficiency and simplify the overall operations of your network.
This becomes even more important as more and more companies are turning to cloud services as the main part of their overall network. This can offer present challenges in monitoring the network, in identifying issues when they arise and in rectifying these problems as they pop up. 
The main things you should be looking for in a company providing network performance management are whether the company has a long history of success in the field, if it can handle multiple sources of data, if the software allows for the management of each part of the network separately, and how involved the company will be in the actual day-to-day monitoring and management of the network.
Most importantly, though, you need to find a company that has the ability and wherewithal to offer an all-encompassing network performance management solution and not one that does so in patchwork fashion. There are plenty of tools an IT team can use to monitor different parts of their network, but having an all-in-one solution is key if you really want to ensure the top performance and monitoring of your network.
The key, of course, is finding the right company that offers the perfect blend of everything you need at a cost that works for you.
You Need to Understand Your Network
First, though, before you can even begin to bring in a network performance management company and software to help, you have to understand your network and all its components. If you don't have this baseline understanding, it will be next to impossible for you to identify what's going wrong, or to explain to another company what the issues are. 
Sometimes, it can even be possible that your network is not where the fail points are occurring. If that's the case, then a network performance management system wouldn't solve any of your current problems (although it certainly would go a long way in preventing future ones from cropping up). 
To truly understand your network, you should map it out and assign priorities to each of the applications that are running on the network. The more important applications should be assigned the higher priorities, of course, and so on down the line. This will help you and the network performance management team diagnose any bandwidth problems you might be having, for example, and re-allocate resources where need be if there's a latency issue.
This mapping will not only go a long way in making you understand your network, but it will help the network performance management solution serve you better in the long run.
Make Sure You Provide the Best Technology
The key to success in today's ultra-fast business world is ensuring your network is up to the standards of the speed of delivery. Today, this means researching ways you can plan for, and then integrate, the coming arrival of 5G. In some markets throughout the world, 5G is already here, but for most, it is still on its way.
More and more industries are relying on mobile technologies that are powered by 4G LTE networks. When 5G arrives in its full form, it will increase the speed at which communications are done, potentially forever changing the information and data exchange network. Beyond just streaming video faster, for example, 5G could provide the technology that is needed to build a truly optimized network for autonomous vehicles, for example.
No matter what industry your company is in, researching ways on how you can utilize 5G, and embracing the technology, will be essential. Mobile infrastructure is oftentimes much more secure than Wifi, for example, which means you might be able to switch the focus of your IoT network. 
Educate Your Users
Once any issues are fixed and the network performance management solution is in place, it's important that you educate all of the users on the network on how to use it. You probably won't be surprised to learn that a lot of network problems are created by simple user error. A small user group, or even one solitary user, can cause monumental failures in a network if they don't use it properly.
That's why it's so important that once you understand your network and the network performance management solution is in place, that you educate all of your users on best practices, including how to and how not to use all of the applications that are on the network.
How TeleResources Approaches Network Performance Management
TeleResources understands the complexity of all that goes into managing wireless network performance.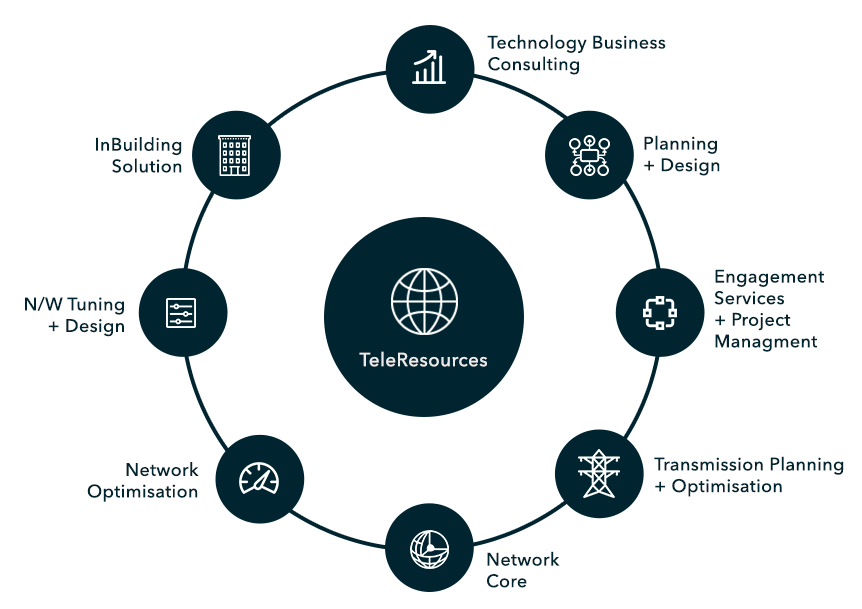 We use the expertise we have on staff and leading-edge tools to address the needs of wireless network managers and operators so that they can deliver a quality and highly efficient network for their customers.
Interested in learning more about Network Performance Management? Just click below!